Tablets
Microsoft Surface Pro 8 Review: Form A to Z
It might be argued that Microsoft listened to people when developing the Surface Pro 8 device, entirely eliminating the drawbacks of earlier models to provide them with the greatest possible experience. Even the software is improving, from the screen's layout to the addition of attachments and the keyboard that goes with them.
Specifications of Surface Pro 8 on my hand



Dimensions:  287mm x 208mm x 9.3mm
Screen: 13 inches – 2880×1920 px_ Touch _120Hz; 100% sRGB
Connectors: two USB type C thunderbold ports; one 3.5 headphone jack and 1 magnetic charging port; keyboard port.
Configuration:  Core i7-1145G7 with 16GB Ram and 256GB
Color: Platinum or Graphite
Weight: 889 g
Supported accessories (not included): Pen Protocol  (MPP), Slim Pen 2, Surface Pro Signature Keyboard, Surface Pro X Keyboard"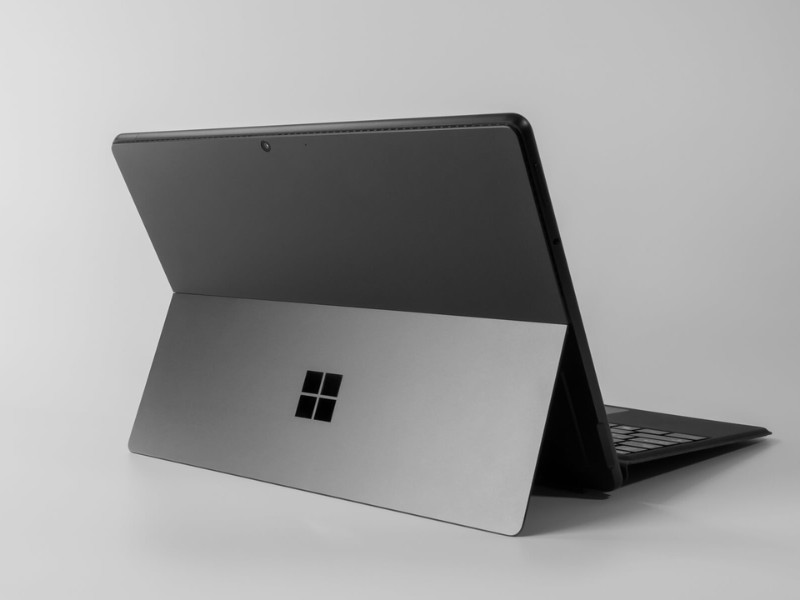 1. Experience a great value for money from the screen of Surface Pro 8
Surface Pro 8 carries an extremely innovative design. The biggest and most recognizable improvement of the Surface Pro 8 is the screen border. It is much thinner than last year's Pro 7 brother, especially on the side edges.
Therefore, with the same size, the screen of Pro 8 is raised from 12.3 inches (pro 7) to 13 inches. And of course, the thin bezel makes the device look much more premium and trendy. The top and bottom bezels will be slightly thicker, but that's because you're still using the device with the keyboard. When attaching the keyboard, our machine will completely lose the bottom border.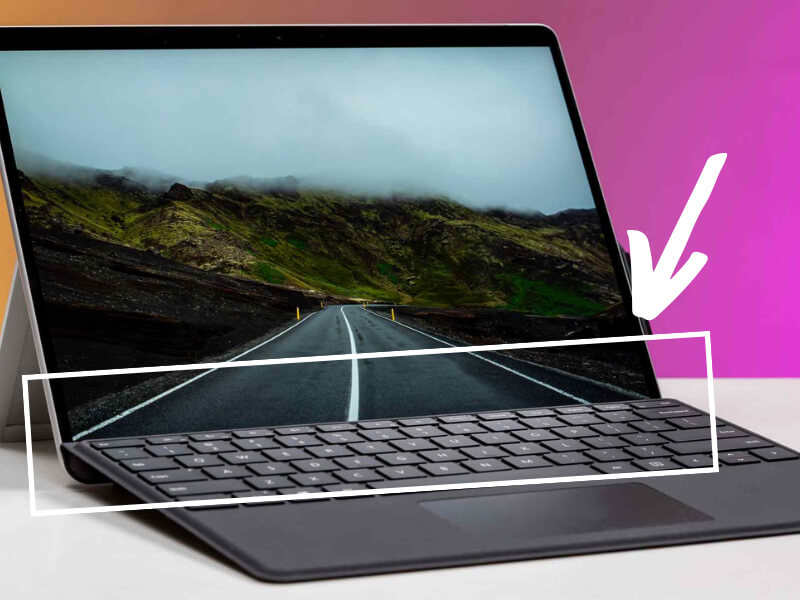 Surface Pro's screen has a resolution of up to 2880×1920 px and a pixel density of 266 ppi for extremely sharp and smooth images. Measuring color directly on the device, the sRGB result is 100%, the maximum brightness is up to 456.6 nits. Too redundant for a movie watching experience or even professional photo editing.
Images on Surface Pro 8 will not only be realistic, but also much more vivid, smooth and sharp, especially when you watch high-resolution movies. 
Color Accuracy test results also show that the device is very color balanced:
Another valuable point on this screen is the refresh rate up to 120 Hz . Normally, we will only see this number on gaming laptops or smartphones. But now, it is equipped right on your surface.
This will be very useful in everyday tasks such as surfing the web, watching news, reading newspapers, drawing and taking notes or even instant combat via keyboard or touch screen. Turning on and off everything is very fast and smooth, touching the screen is also very happy.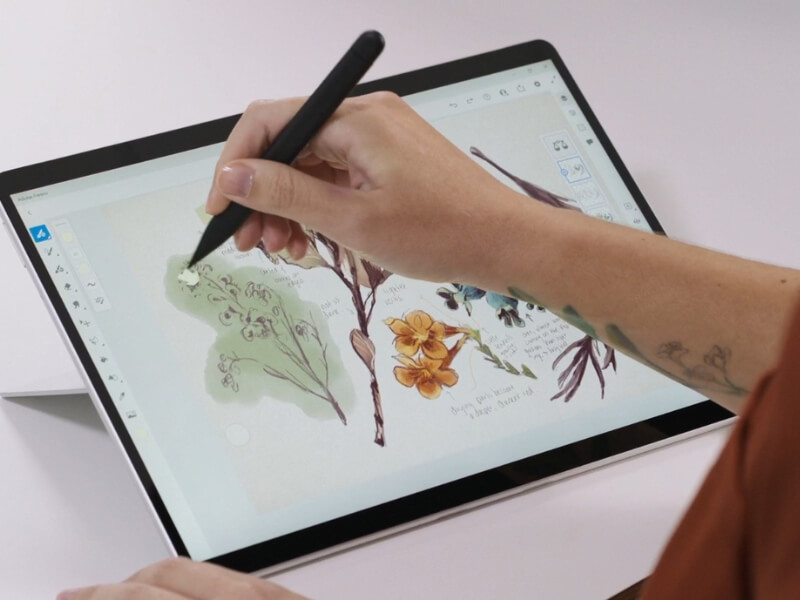 Not only that, this great screen will be great. Experiences like this, I assure you, there will be no windows laptop up to this point that can give you something like surface Pro 8. . 
In case you want to save more battery, you can also go to the option and switch back to 60Hz. However, I think there is no need, because normally, this machine can work continuously for nearly 5 hours. 
In addition, using the device to watch movies or listen to music with a pair of surround sound speakers is also a plus point to help me love it.
2. Unique and convenient 2-in-1 design
The design of the machine remains the same form of the products from 2015 with the improvements gradually increasing year by year. It is a very new design compared to other laptops on the market.
With a flexible collapsible stand, you can work in a tablet position, or raise the device for normal work, and lower it if you want to draw and use a pen.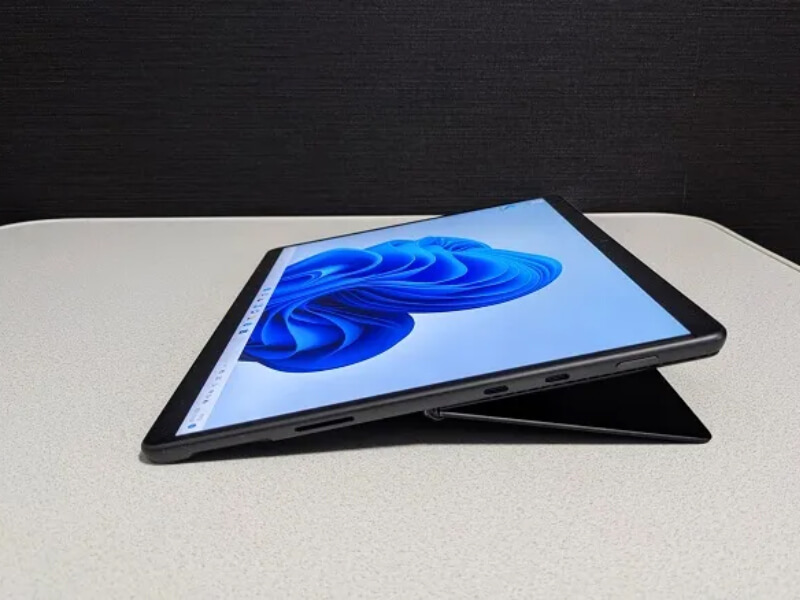 The entire back is made of high-quality alloy, so light and heat dissipation is so good that according to the manufacturer, it helps to partially replace the cooling fan for the machine. And also remember that there is no cooling fan, but the machine runs quieter than many conventional laptops.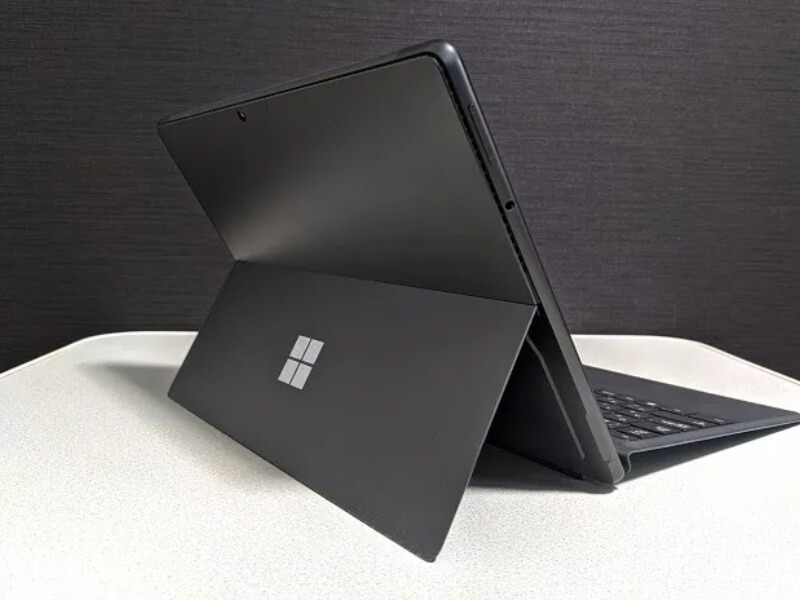 In addition, videos and working online with this Surface Pro 8 are also very enjoyable. With the 5Mb front camera, only Full HD can be recorded , but the image quality is very real and beautiful. Automatic smoothing with AI, so I still confidently look at the cam even with a bare face. It's not as white and blotchy as low-quality cameras and is pulled bright.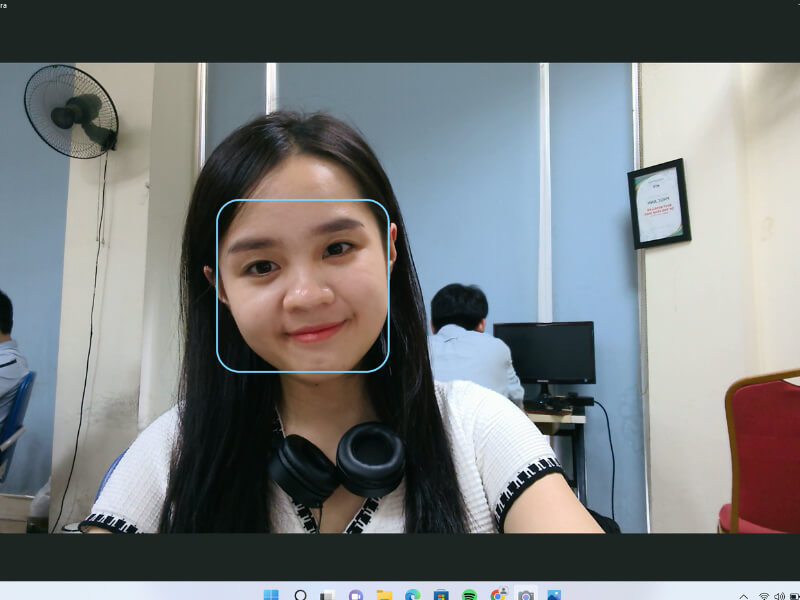 One point that I find very convenient is that I can both have a meeting and record my meeting to see information or take pictures of documents on a colleague's silde and save data right away with the 10MP rear camera . get 4K.
It won't be a process: Pick up your phone to take a photo, save it on your phone, and then transfer it to your laptop again. 
Another point is that when you choose to shoot with the rear camera, you will have many shooting modes such as document capture, QR scanning, and so on. This part, I have not found much useful, but it is also a bright spot for those who like the new.
Here is a test photo of the following camera, which also looks pretty good compared to the camera of a device: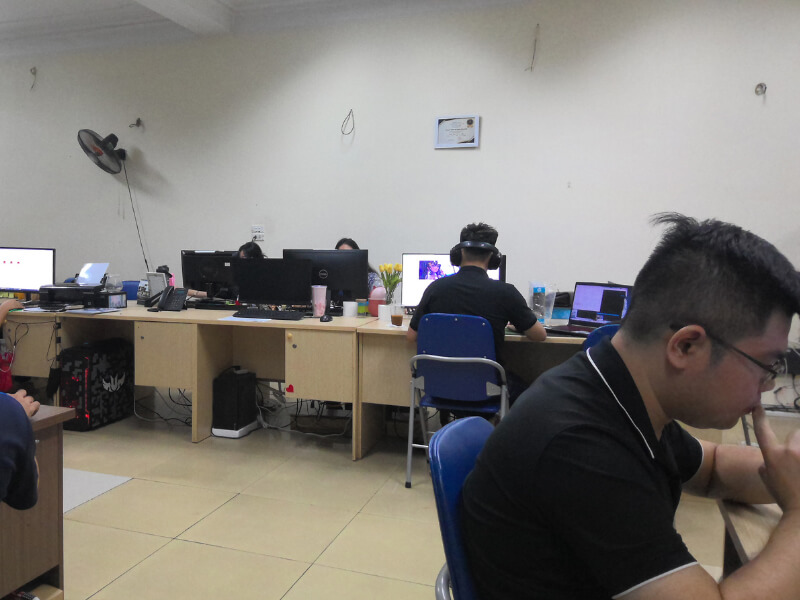 Surface Pro 8 also has more connectivity improvements with 2 USB Type C thuderbold ports that do a lot more than before. 
Left: 3.5mm headphone jack and volume up and down buttons.
Right : Two USB Type C – Thunderbld ports and a magnet charging jack.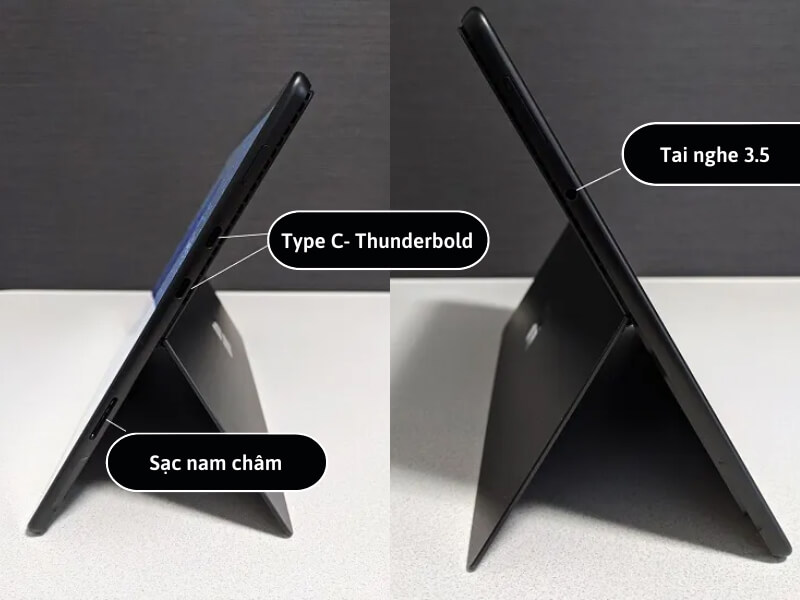 3. Surface Pro 8 has solid performance
The version I'm using is equipped with Intel Gen 11-1145G7 Chip with 16GB Ram and 256GB; with the national graphics card Iris XE Graphic. With this configuration, you can use the machine smoothly for all office tasks, along with light photo and video editing.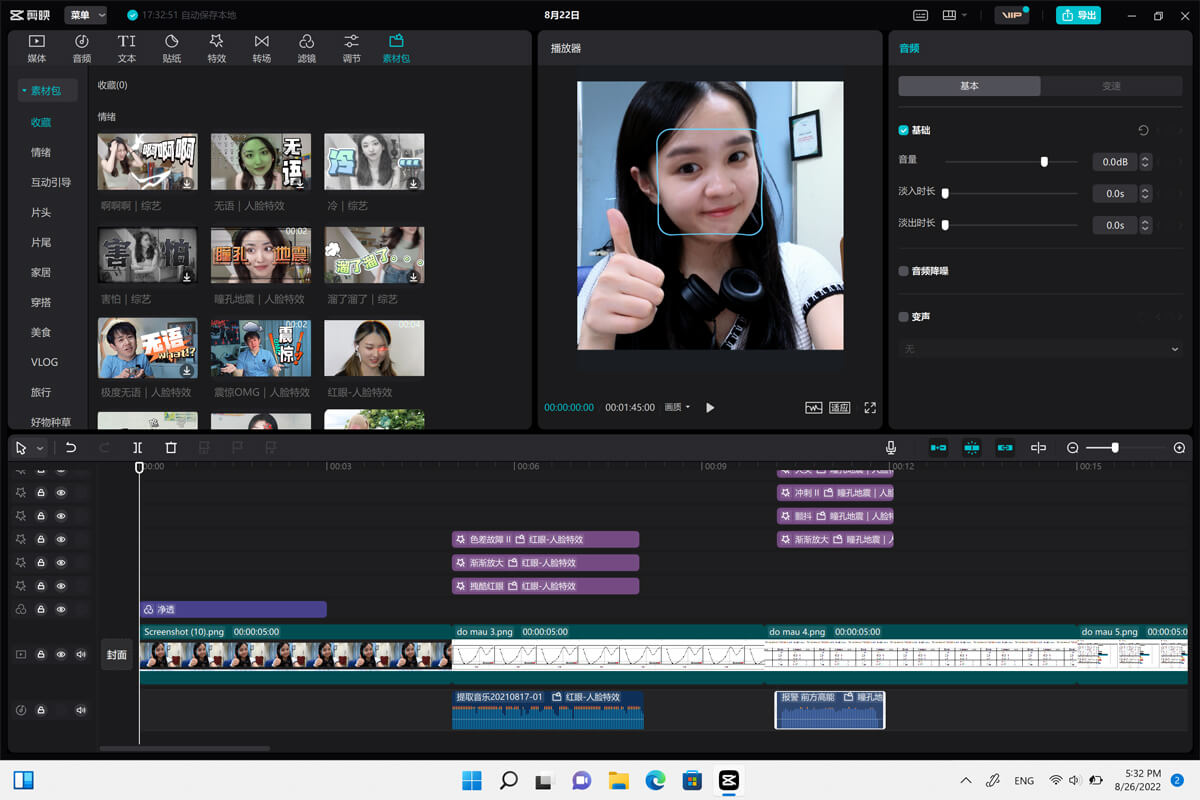 I used this device to edit youtube thumnail and edit short videos of about 3 minutes or less, it was quite good; Using office tasks does not have to be discussed because you are equipped with Windows Pro version. I used it all day without turning off the device but the device did not stutter or heat up much.
This is also an improvement compared to its predecessor Pro 7. I remember that, when running heavy programs or using it for too long, the Surface Pro 7 heats up unsteadily, feeling afraid of not daring to continue using it.
Of course, the machine also cools down very quickly, leaving it for about 3-5 minutes to cool down as usual. But in Pro 8, even if I use it for a few hours or even the end of an administrative day, the device will only warm up slightly. And like its predecessor, Pro 8 can easily upgrade the SSD by replacing the memory card on the back.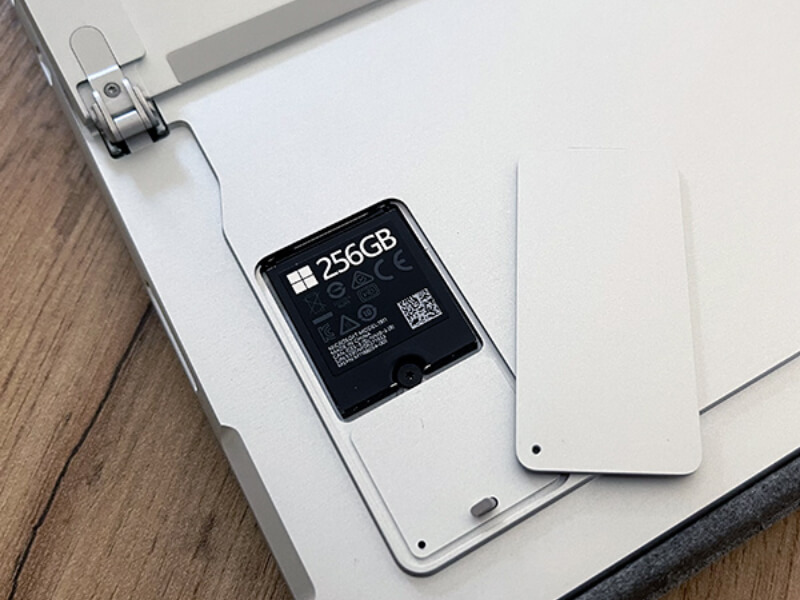 But only SSD, Surface Pro 8 cannot upgrade Ram, so when you buy a machine, choose a machine with parameters suitable for your work needs.
4. Surface Pro 8 keyboard and pen are great aids
To maximize the work, we cannot ignore Surface's pen and keyboard. Some product codes will include a keyboard or pen, but most when you buy  , you will need to purchase an additional keyboard and pen. 
There are quite a few products manufactured by third parties that can connect to Surface machines and are much cheaper than the original product. But usings pen and keyboard is still the best experience for me. 
With the Surface Pen 2, you can take notes quickly. The pen has an ultra-sensitive touch with 4096 pressure-sensitive points and can adjust the stroke – bold by pressing hard or lightly, just like when you write with ink. The pen is also automatically charged wirelessly when placed in the pen slot on the keyboard.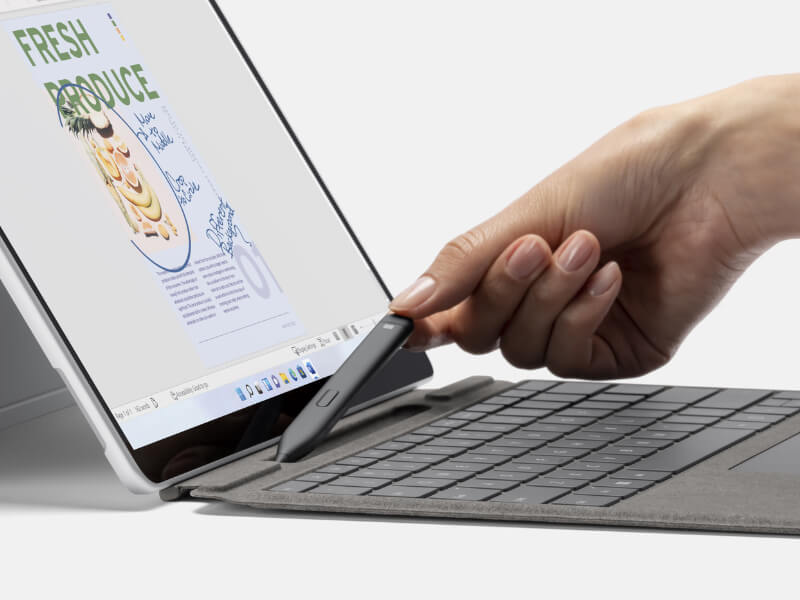 The weight of the machine is only 0.889 grams – much lighter than laptops on the market today.
And even with the keyboard and pen, it's still only 1,180 kg – an ideal number for you to carry the device everywhere.
Although light in weight, when typing, the key travel is quite deep. The keyboard is also not flex like other similar thin keys on the market.
The key is also tilted slightly at an angle of about 30-40 degrees, so you will have a comfortable palm rest. The keys are covered with Alcantara – a material similar to suede but more advanced and durable, often found on luxury cars. Not only is it beautiful, but the keyboard also becomes a screen protector when you fold them together. 
5. Summary of Surface Pro 8″ hybrid tablet



This machine is definitely born for real business people, students-office workers in sectors such as Economics-diplomacy, Law, Foreign languages,… It's very dynamic and portable. easily thanks to its slim and stylish design. I'm sure everyone will have to take a look at your machine. 
In addition, the machine also has good configuration, an extremely quality screen. Not only can you do basic office work on this machine, but you can also use it to edit photos and edit short videos. 
Not to mention, it is really exhausting to note information directly with the super-sensitive Surface pen and have natural bold strokes. You can use the device with many positions and even when holding the device continuously and using it as a tablet, it will not fatigue your hand.